Description
CREALITY K1: 
 600mm/s Max Speed:
Crazy 600mm/s*. K1 is 12 times faster than a regular FDM 3D printer. Now, sit tight for the thrill of breathtaking speed.
*The 600mm/s speed is achieved at Creality Lab in the Surface Mode with 0.1mm layer height.
*The typical speed is 300mm/s. The travel speed is 800mm/s.
20000mm/s² Acceleration
With 20000mm/s² acceleration, K1 ramps up to 600mm/s in only 0.03s, delivering full speed in 90% of the printing time.
32mm³/s Max Flow Hotend
Adopts new ceramic heater, encircling the entire hotend. It heats to 200 Celsius in 40 minutes and melts the filament instantly. And the dual-gear direct extruder can deliver 50N strong extrusion force. Hotend with a titanium alloy heat break and a copper alloy nozzle, working with flying colors in up to 300 Celsius.
Hands-free Auto Leveling
An array of strain sensors are embedded in the heatbed to generate an accurate leveling mesh. The whole process happens on its own after the printing starts. You don't need to lift a finger or pay any attention.
Self-test with One Tap
Give a tap, and K1 will self-test the extruder, heatbed, camera (optional), fan, leveling, etc. Any abnormality detected will prompt on the display. So, users can proceed confidently without hitch.
Solve Ringing with G-sensor
A G-sensor in the printhead measures the resonance frequencies of high-speed printing, and auto-tune the printer to mitigate it. No more ghosting or ringing on the print.
Unibody Die-cast Frame
The unibody die-cast aluminum alloy frame of K1 is CNC machined to be precise and rigid. It enables steady printing at high speed. And the print quality is excellent the whole time.
Delicate Texture without Z-banding
Auxiliary Cooling Fan in Chamber
A large fan on the printhead with air ducts cools the model directly. An 18W auxiliary fan in the build chamber enhances the cooling effect, too.
The model hardens before any stringing and warping could happen. It allows support-free bridges and overhangs.
 Flexible Build Plate
Sticky and heat-resistant, it works well with a wide range of filaments. The finely frosted surface makes the model bottom fine and smooth. Bendable for quick print removal.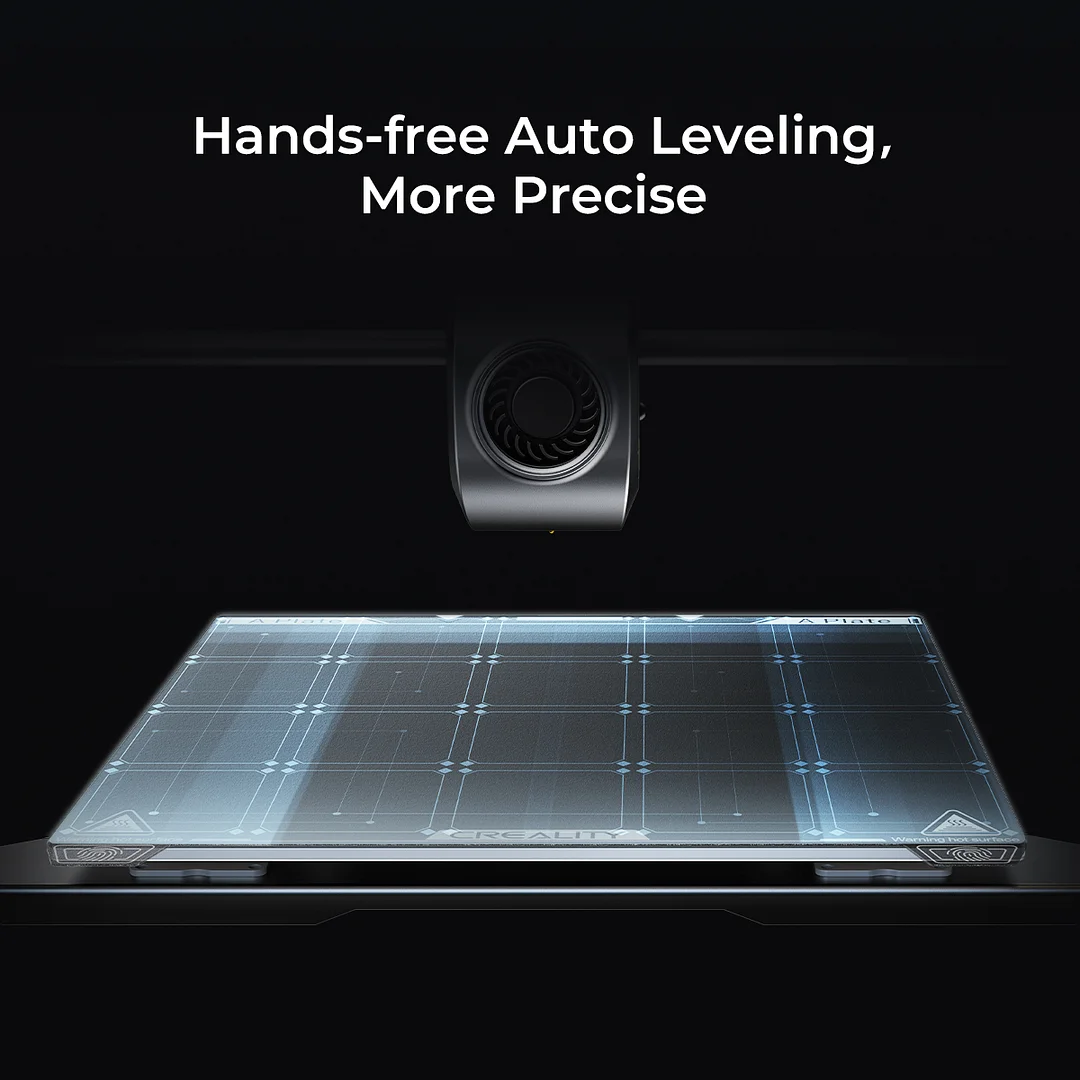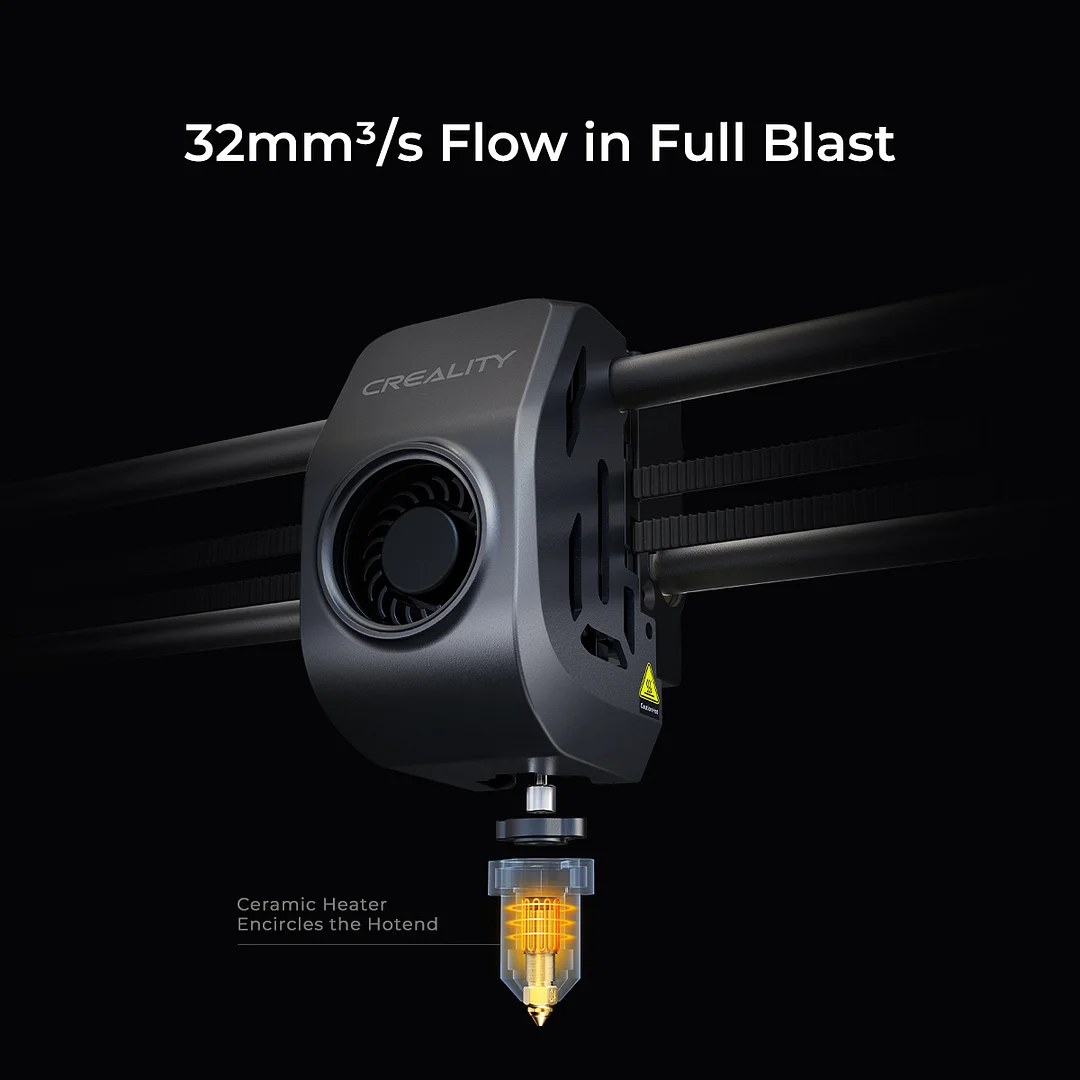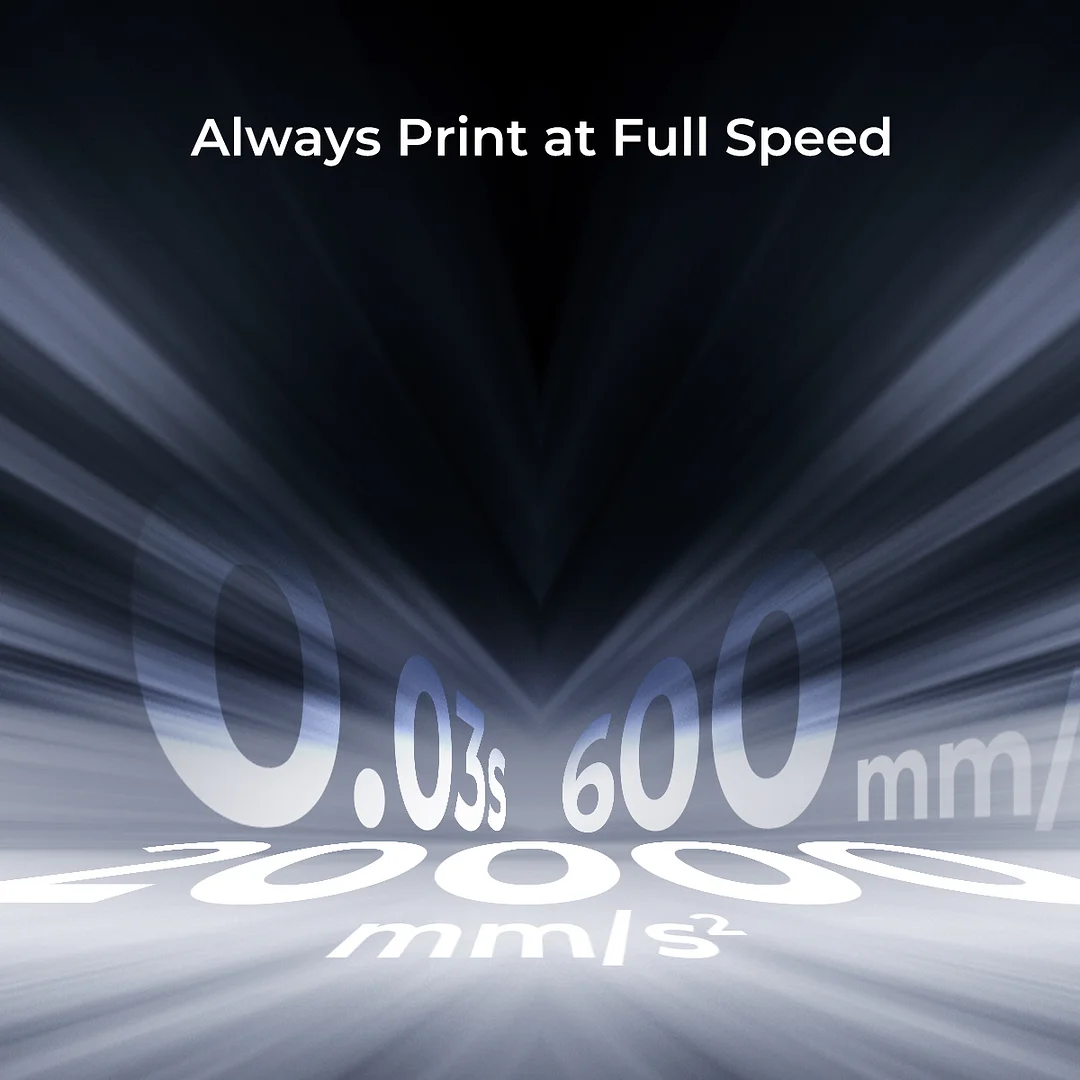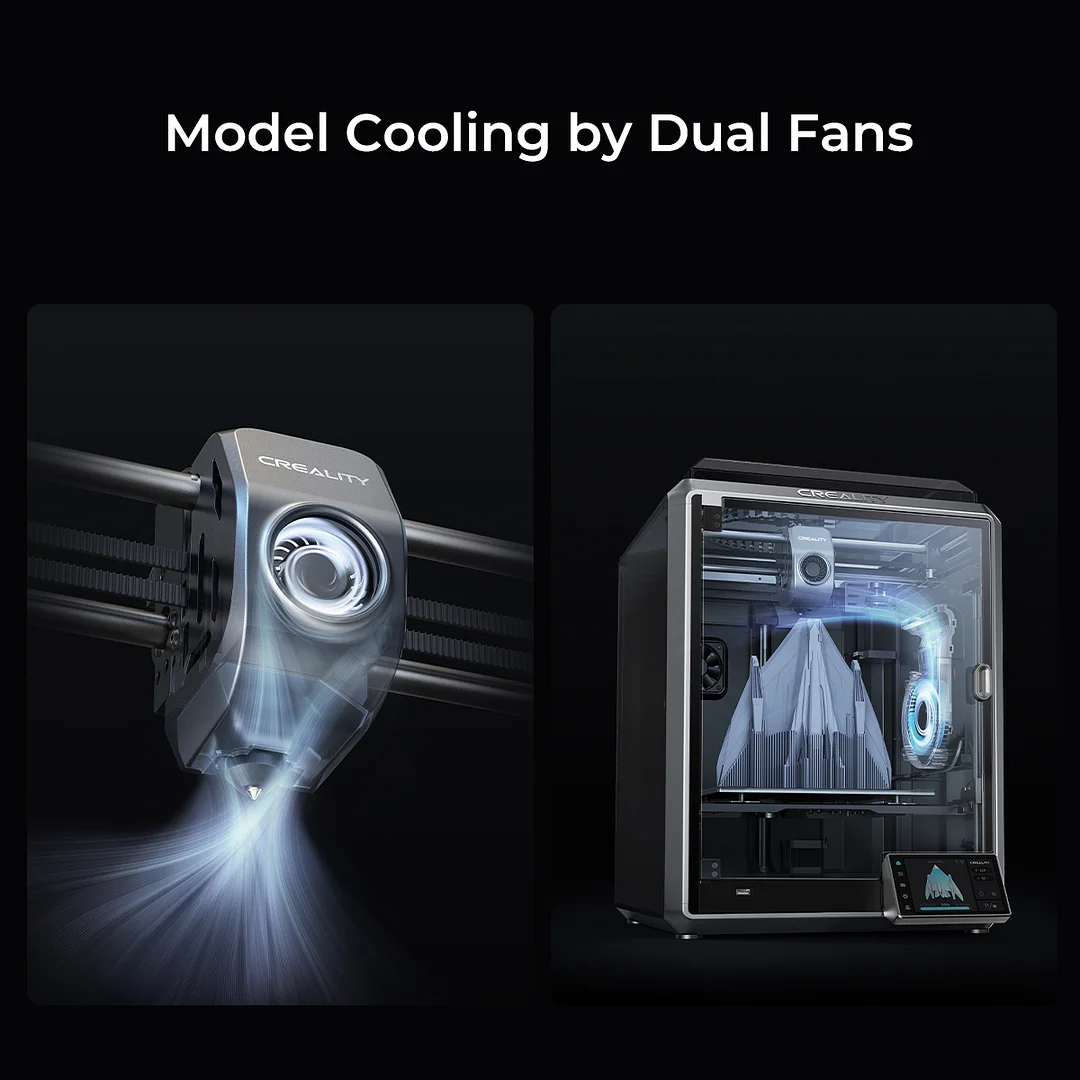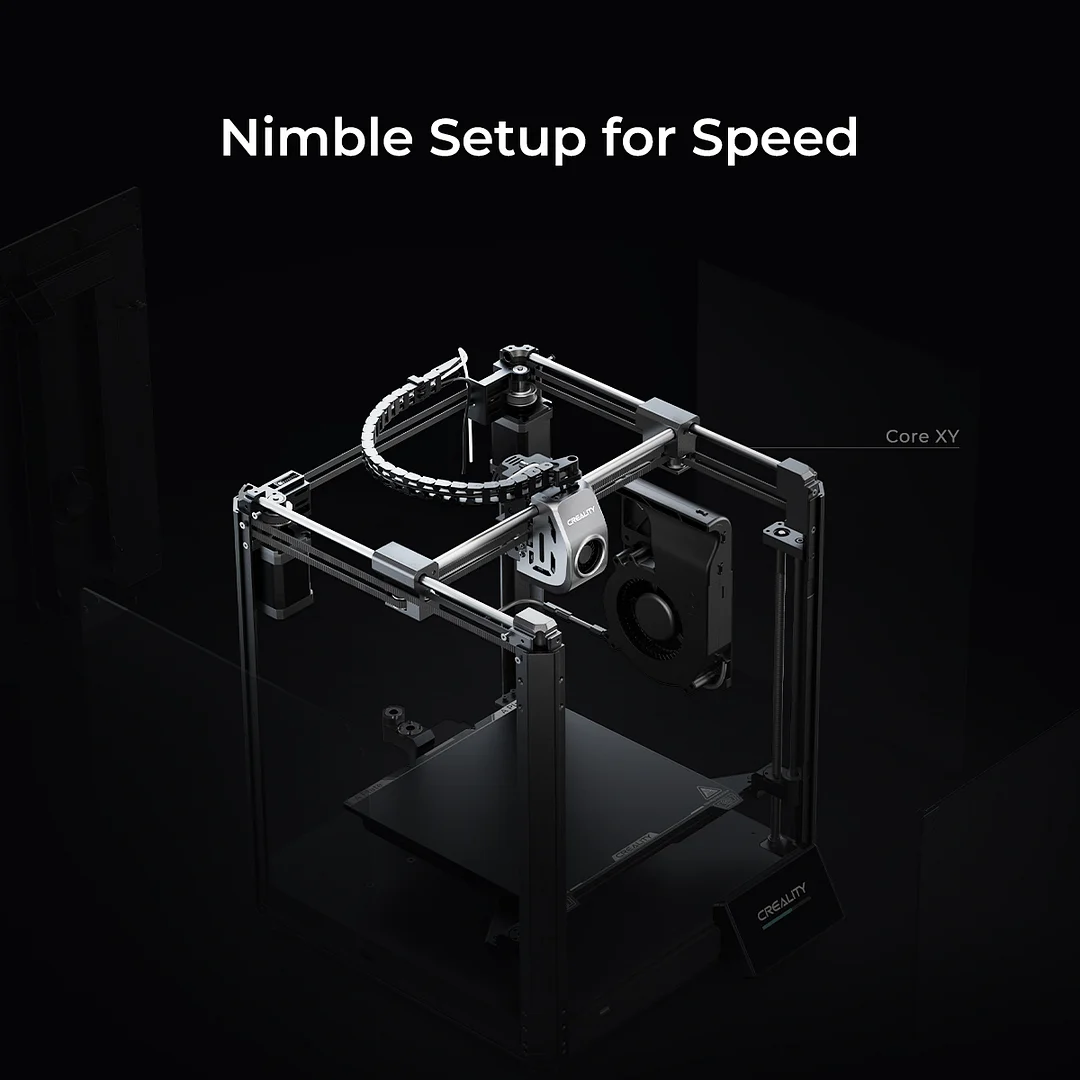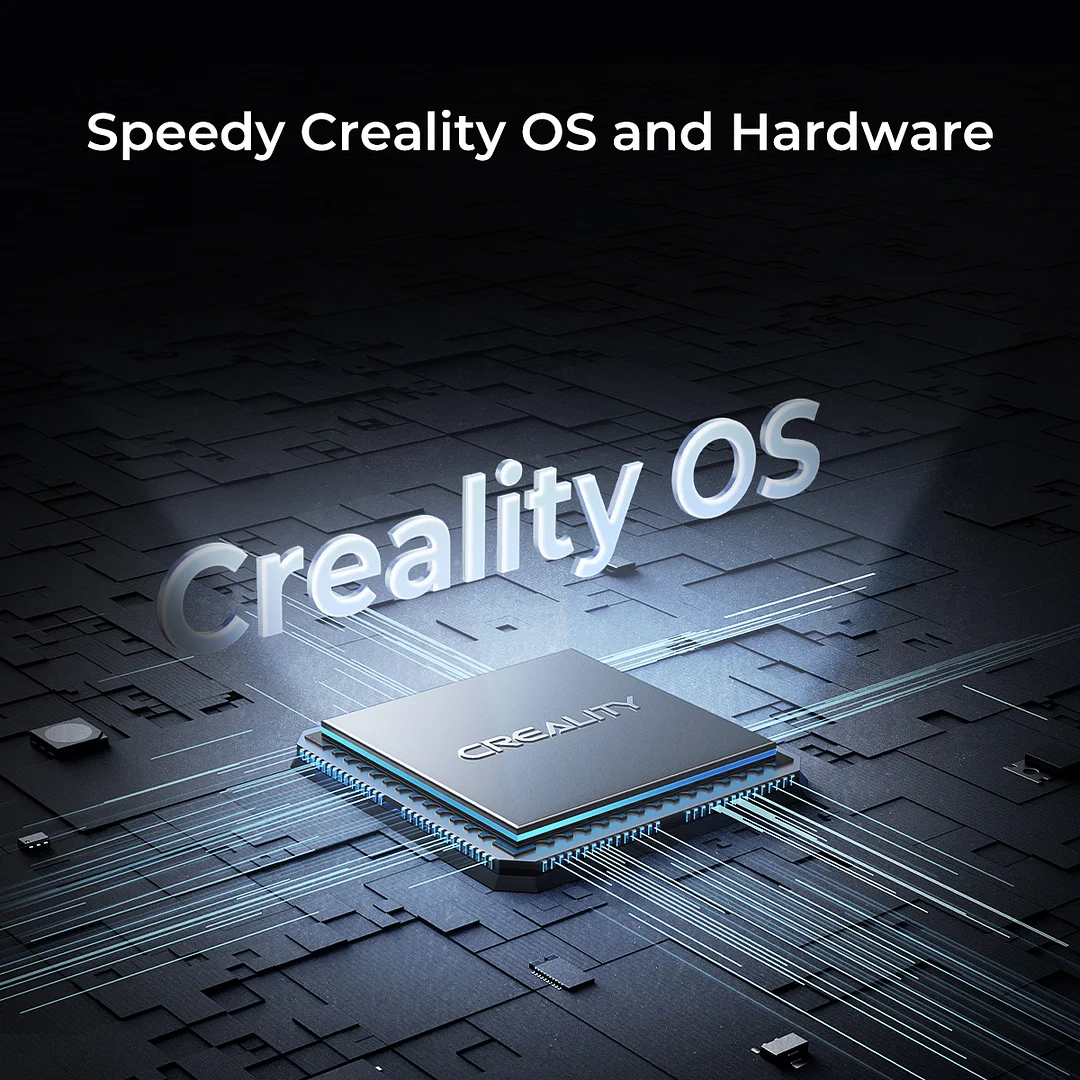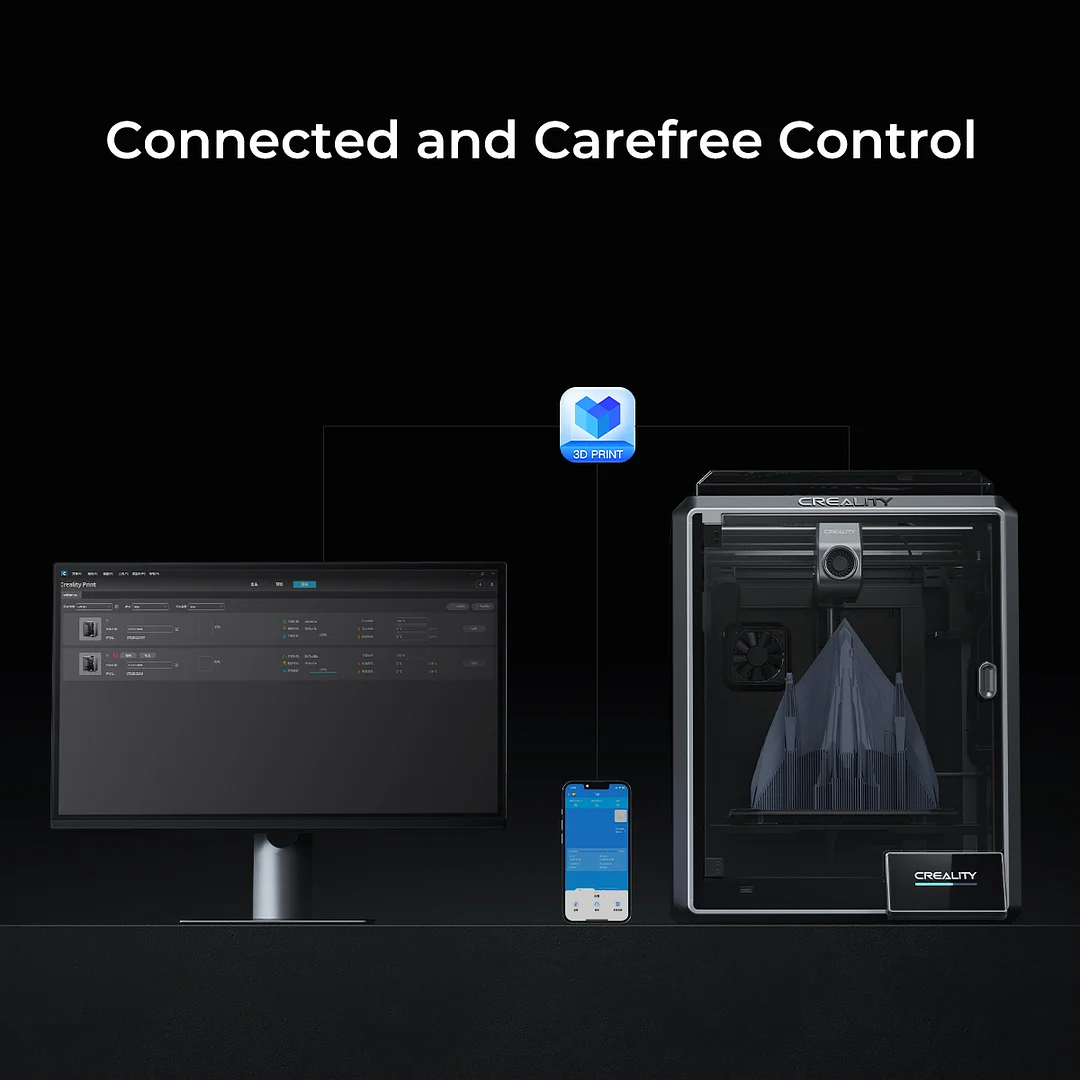 Specifications:
Build Volume: 220*220*250mm
Product Dimensions: 355*355*480mm
Package Dimensions: 415*415*550mm
Acceleration: ≤20000mm/s²
Printing Accuracy: 100±0.1mm
Extruder: Dual-gear direct drive extruder
Filament Diameter: 1.75mm
Nozzle Diameter: 0.4mm(compatible with 0.6/0.8mm)
Nozzle Temperature: ≤300℃
Heatbed Temperature: ≤100℃
Build Surface: Flexible build plate
Leveling Mode: Hands-free auto leveling
File Transfer: USB drive, WiFi
Display Screen: 4.3" color touch screen
Filament Runout Sensor: Yes
Rated Voltage: 100-120V~, 200-240V~, 50/60Hz
Supported Filaments: ABS, PLA, PETG, PET, TPU, PA, ABS, ASA, PC, PLA-CF, PA-CF, PET-CF
Printable File Format: G-Code
Slicing Software: Creality Print; compatible with Cura, Simplify3D, PrusaSlicer
File Formats for Slicing: STL, OBJ, AMF
UI Languages: English, Spanish, German, French, Russian, Portuguese, Italian, Turkish, Japanese, Chinese