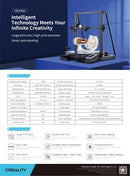 Description
Creality CR 6 Max 3D Printer
Key Features
Resume print feature

New 4.3 inch touchscreen

Easy interface

New belt tensioner

Tool compartment

New heated bed fixings

Easy assembly

Carborundum glass plate

Silent mainboard
Larger Build Volume

The key difference between the CR-6 Max and the SE is, of course, the build volume. The CR-6 Max features a 400 x 400 mm build plate, with a towering 400-mm maximum build height.

Intelligent auto-leveling
The latest innovation from Creality, so that you rarely or never have to level the platform yourself. A well-leveled platform significantly increases print quality and at the same time reduces the number of misprints.
Modular hotend

The CR-6 Max has a newly developed hot-end design and simplifies the exchange of individual components. The hotend also has improved heat dissipation and flow to improve printing precision.

Reliable extruder
The newly designed extruder can enable faster and more uniform extrusion. The lever for easier changing of the filament is also new.

Increased stability
A wider frame, high-quality aluminum profiles, and dual Y and Z axes with dual belts ensure far lower vibrations and greater stability. This has a direct impact on print quality.
Photoelectric filament sensor

The new sensor ensures that the print is paused if the filament runs out or breaks. After adding a new filament, you can simply continue printing. The photoelectric sensor significantly increases the success rate of your prints.

Specifications

Modeling Technology: FDM

Printing Size: 400x400x400mm

Supported Materials: PLA/TPU/PETG/ WOOD

File Transfer: USB/Memory card

Machine size : 725x640x691mm

Motherboard: Silent motherboard

Nominal Voltage: 100v-240v

Rated Power: 500W

Output Voltage: 24V

Layer Thickness: 0.1-0.4mm

Print Resolution: 0.1mm

Nozzle Temperature: ≤260℃

Nozzle Diameter: 0.4mm as standard

Hotbed Temperature: ≤90℃